Maine is a haven for birdwatchers. From its rugged coastlines to dense forests, Maine's diverse landscapes play host to an array of colorful avian residents. Among the diverse avian population, the state boasts a collection of vibrant orange birds that stand out against its verdant backdrop.
In this guide, we'll introduce you to 8 of these fiery-feathered residents and offer a free photo guide to help you capture their beauty during your next birdwatching adventure.
Orange Birds Found In Maine
Maine, with its mix of coastal areas, forests, and wetlands, provides a habitat for a range of bird species.
Baltimore Oriole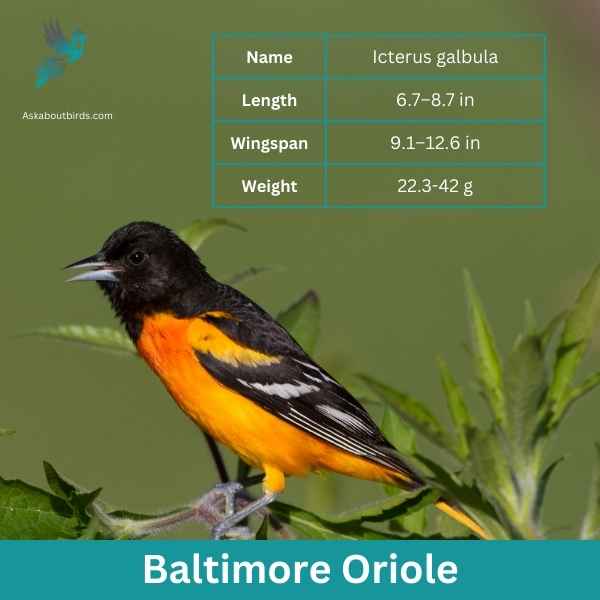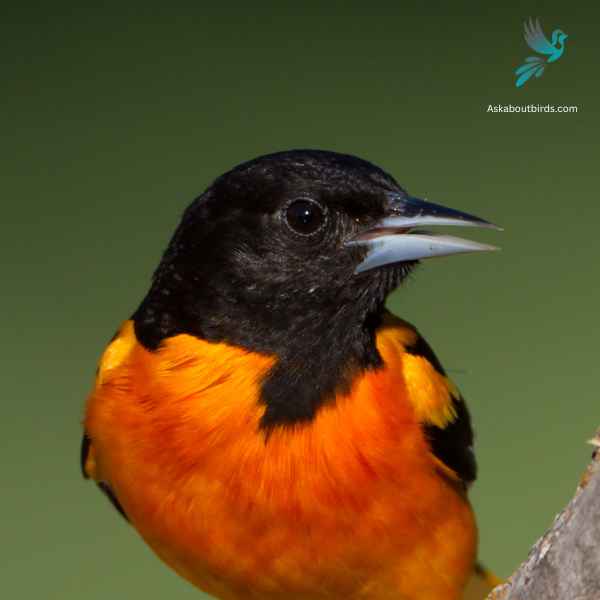 | Feature | Measurement |
| --- | --- |
| Scientific Name | Icterus galbula |
| Length | 6.7–8.7 in |
| Wingspan | 9.1–12.6 in |
| Weight | 22.3-42 g |
The Baltimore Oriole is a stunning bird, best known for its vibrant coloration and its rich, whistling song.
Appearance: The male Baltimore Oriole is notable for his bright orange and black plumage and black and white wing bars, a stark contrast to the more muted yellow-brown coloration of the female. Both sexes, however, have long pointed bills and white bars on their wings.
Diet: Baltimore Orioles have a diverse diet that includes insects, fruits, and nectar. Their preference for sweet juices and fruit pulp often brings them to backyard feeders offering oranges and jelly.
Reproduction: The female Baltimore Oriole is responsible for building the distinctive hanging nest, often woven together from fine materials like hair and grass. These nests are usually high in trees to avoid predators. The female lays 3-7 eggs, which are incubated for about two weeks.
Orchard Oriole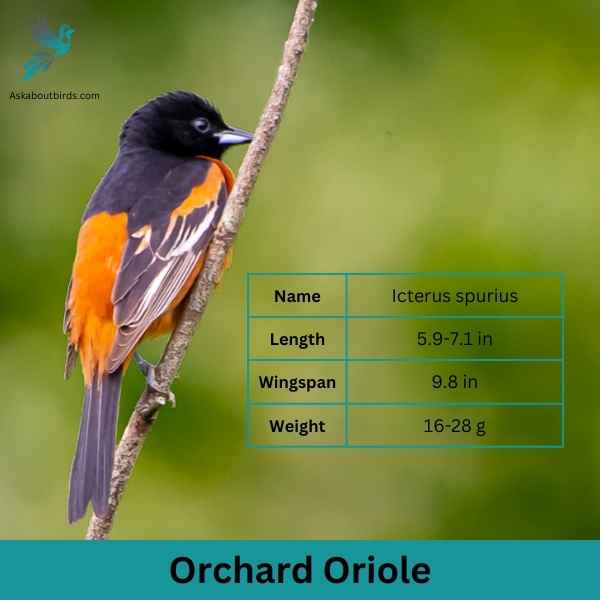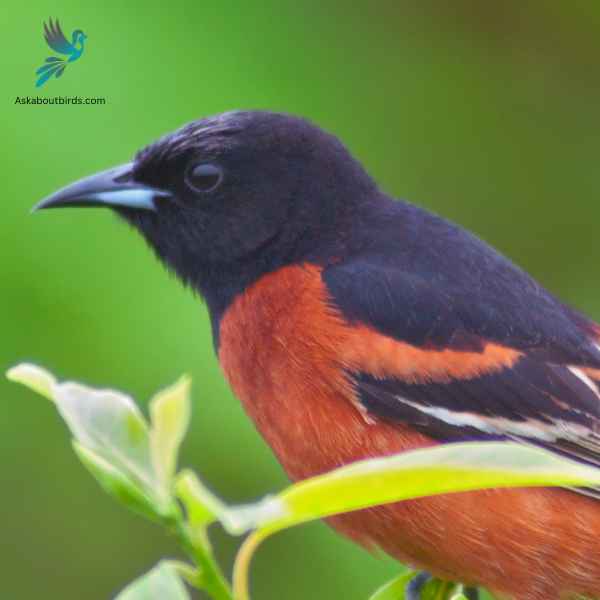 | Feature | Measurement |
| --- | --- |
| Scientific Name | Icterus spurius |
| Length | 5.9-7.1 in |
| Wingspan | 9.8 in |
| Weight | 16-28 g |
The Orchard Oriole is a small songbird noted for its distinctive coloration and melodic song.
Appearance: Male Orchard Orioles are a striking sight with their dark chestnut body and black head and black and white wings, while females and immature males are olive-green and feature a yellowish underpart. The species is often recognized by its slender body and pointed bill.
Diet: The diet of the Orchard Oriole consists primarily of insects, fruits, and nectar. They are adept at catching insects mid-air and are also known to sip nectar from flowers, aiding in pollination. When fruits are in season, they make up a substantial portion of the bird's diet.
Reproduction: Orchard Orioles often nest in open woodlands and orchards, hence their name. The female is responsible for building the nest, typically choosing a location in a tree or shrub. The female lays a clutch of 4 to 6 eggs, which she incubates for about two weeks.
Scarlet Tanager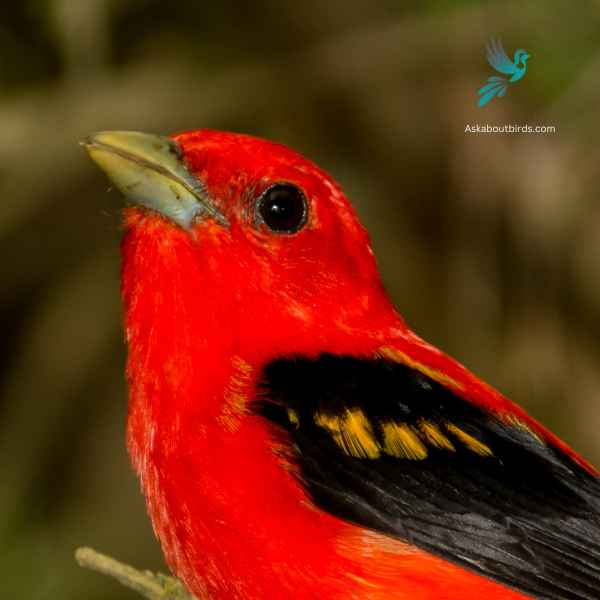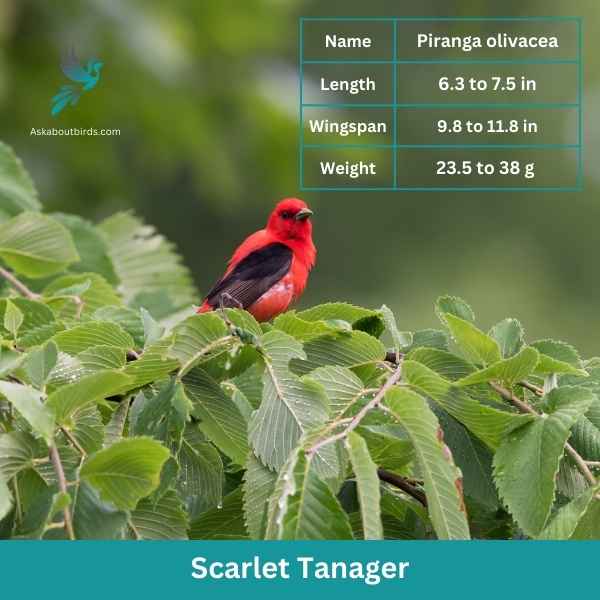 | Feature | Measurement |
| --- | --- |
| Scientific Name | Piranga olivacea |
| Length | 6.3 to 7.5 in |
| Wingspan | 9.8 to 11.8 in |
| Weight | 23.5 to 38 g |
The Scarlet Tanager is a strikingly colorful bird known for its brilliant plumage and distinctive song.
Appearance: Male Scarlet Tanagers are notable for their vibrant scarlet bodies contrasted with black wings and tail, making them one of the most intensely colored birds. Females and juveniles, on the other hand, have a subdued olive-yellow body color with darker wings and tail.
Diet: The diet of the Scarlet Tanager is largely made up of insects, including beetles, cicadas, aphids, and others. They are adept flycatchers, seizing insects in mid-air or picking them off foliage. They also consume fruits and berries, especially during migration and in their winter habitats.
Reproduction: The female Scarlet Tanager builds a cup-shaped nest using twigs, rootlets, and grass, typically well-hidden in the dense foliage of trees. She lays 3 to 5 eggs and incubates them for about two weeks.
American Redstart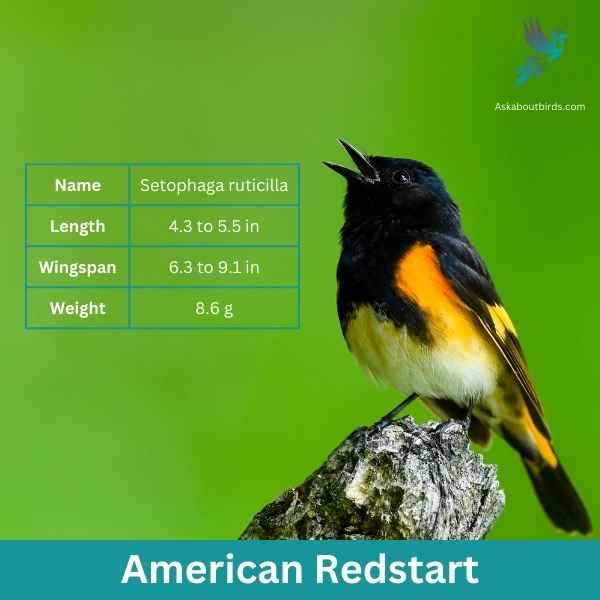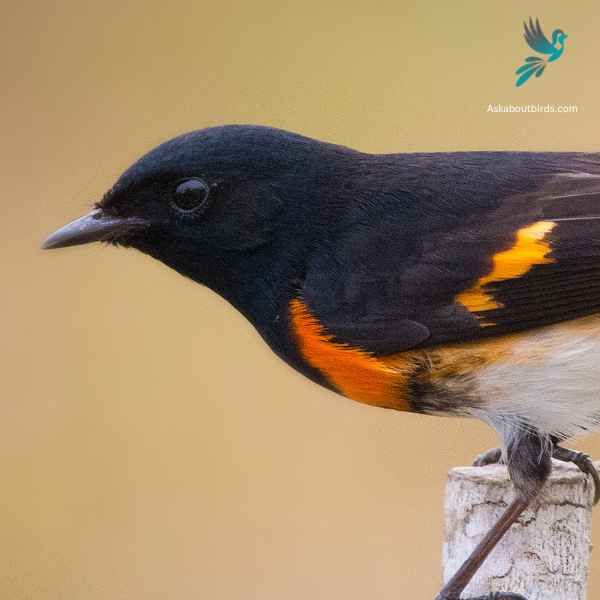 | Feature | Measurement |
| --- | --- |
| Scientific Name | Setophaga ruticilla |
| Length | 4.3 to 5.5 in |
| Wingspan | 6.3 to 9.1 in |
| Weight | 8.6 g |
The American Redstart is a lively warbler known for its vivid colors and active hunting style, often seen flitting about, fanning its tail to startle and catch insects.
Appearance: Adult male American Redstarts boast striking black plumage with bright orange patches on the sides, wings, and tail. Females and immature males have grayish-olive upperparts with yellow patches in the same areas where the males display orange.
Diet: American Redstarts are primarily insectivores. They actively forage for flying insects, as well as caterpillars and spiders, often using their colorful tails to startle prey and make them easier to catch.
Reproduction: The female American Redstart builds a cup-shaped nest in the fork of a tree branch. Typically, she lays a clutch of 3 to 5 eggs. The female takes on the primary responsibility of incubating the eggs, while both parents participate in feeding the fledglings after they hatch.
Eastern Towhee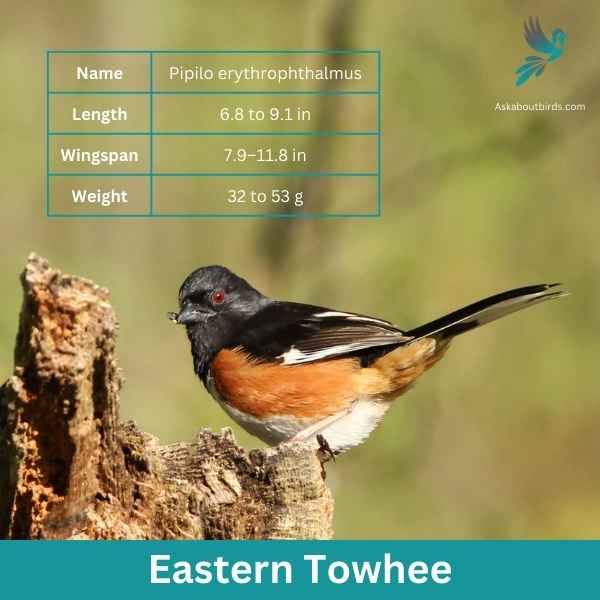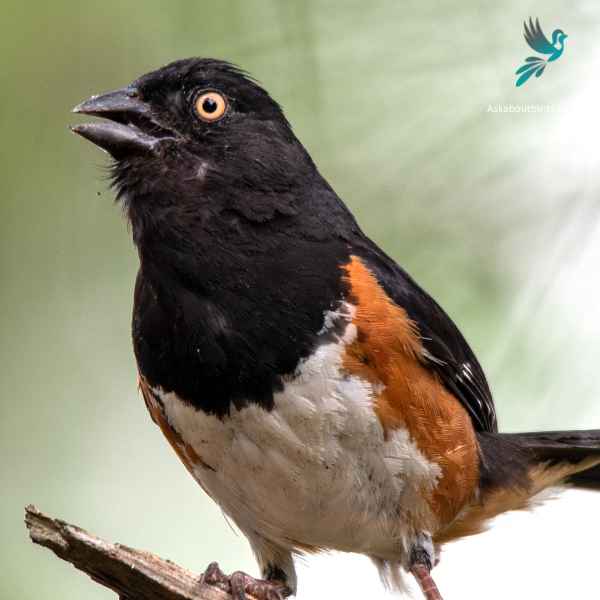 | Feature | Measurement |
| --- | --- |
| Scientific Name | Pipilo erythrophthalmus |
| Length | 6.8 to 9.1 in |
| Wingspan | 7.9–11.8 in |
| Weight | 32 to 53 g |
The Eastern Towhee is a distinctive songbird known for its unique calls and eye-catching coloration.
Appearance: Male Eastern Towhees are characterized by a striking combination of a black head, back and tail, contrasting with a white belly and rufous flanks. Females sport similar patterns but instead of black, they have a rich brown color. Both genders have red eyes, lending a special charm to their overall appearance.
Diet: Eastern Towhees primarily feed on a variety of insects, seeds, and berries. Their diet is quite diverse, taking advantage of seasonal offerings, which includes beetles, caterpillars, spiders, acorns, grass seeds, and various fruits and berries.
Reproduction: Eastern Towhees build their nests on or near the ground, often in a shrub or a small tree. The female lays around 3-5 eggs and takes the primary role in incubating them over about 12-13 days.
Red Crossbill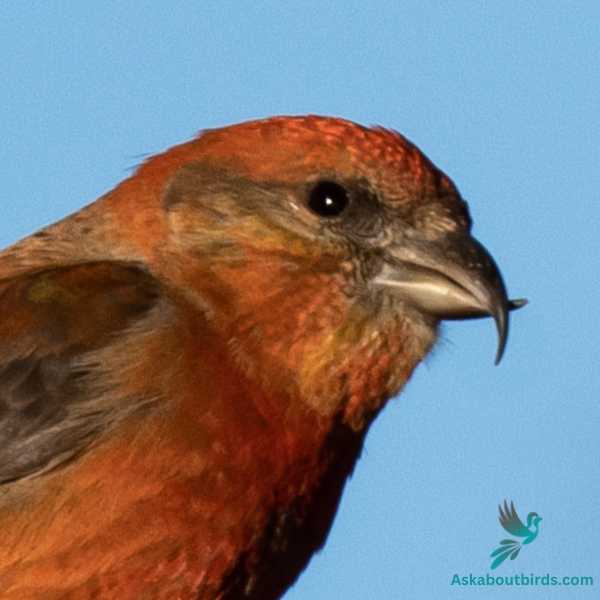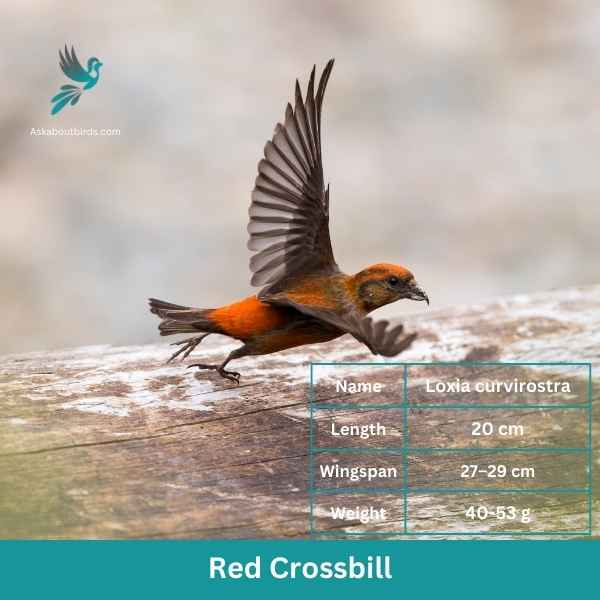 | Feature | Measurement |
| --- | --- |
| Scientific Name | Loxia curvirostra |
| Length | 20 cm |
| Wingspan | 27–29 cm |
| Weight | 40-53 g |
The Red Crossbill is a peculiar bird species, celebrated for its unique beak structure and vibrant coloration.
Appearance: Red Crossbills are named for their distinctive crossed mandibles, which are adapted to extracting seeds from conifer cones. Male Red Crossbills are usually bright red or orange, while females and juveniles are greenish-yellow. All have dark wings and notched tails.
Diet: The diet of the Red Crossbill is primarily composed of conifer seeds, their unique beak allowing them to access these seeds with ease. This diet includes seeds from pine, spruce, and other types of coniferous trees. They are also known to consume some insects.
Reproduction: Red Crossbills are known for their flexible breeding season, which can occur any time of the year when there is an abundance of food. They typically nest in conifers, where the female lays a clutch of 3 to 4 eggs.
Northern Flicker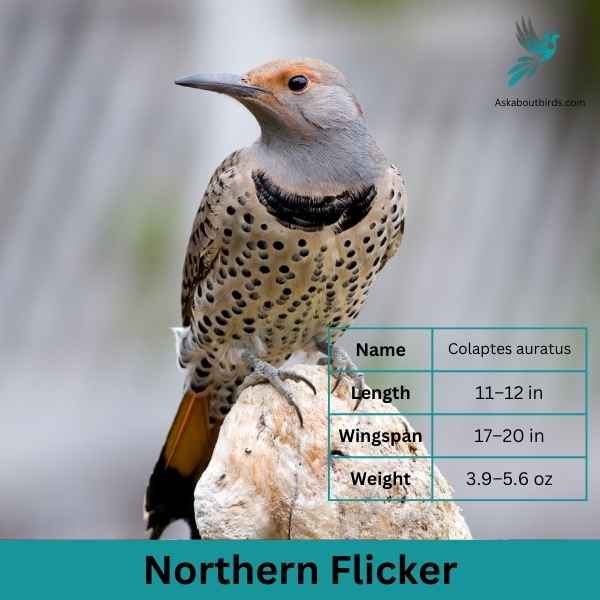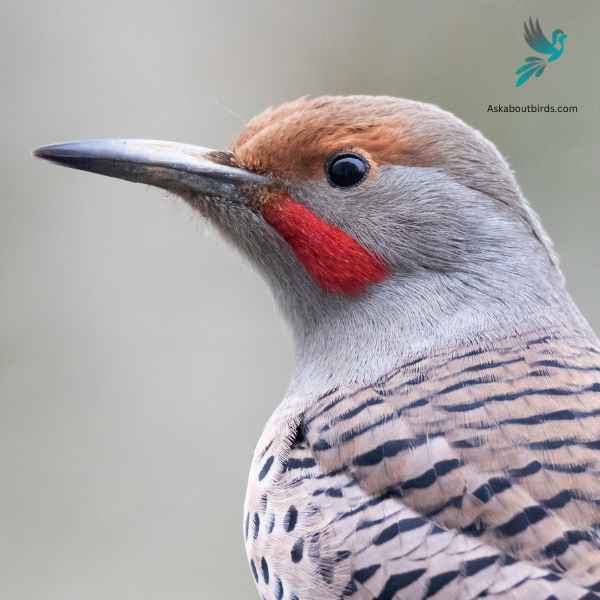 | Feature | Measurement |
| --- | --- |
| Scientific Name | Colaptes auratus |
| Length | 11–12 in |
| Wingspan | 17–20 in |
| Weight | 3.9–5.6 oz |
The Northern Flicker is a medium-sized woodpecker, recognized by its unique patterns and coloring, often found drumming on trees or foraging on the ground across North America.
Appearance: The Northern Flicker stands out with its grayish brown body, black-scalloped plumage, and a black bib. Males sport a distinctive black or red mustache stripe. Depending on the subspecies, the underwing and undertail feathers can be bright yellow or red, flashing vividly during flight.
Diet: While most woodpeckers are tree-bark foragers, the Northern Flicker prefers hunting on the ground. Its primary diet consists of ants and beetles, supplemented occasionally by fruits, berries, seeds, and other small insects.
Reproduction: Northern Flickers are cavity nesters, preferring to excavate their nesting hole in dead or diseased tree trunks. The interior of the nest is lined with wood chips.
American Robins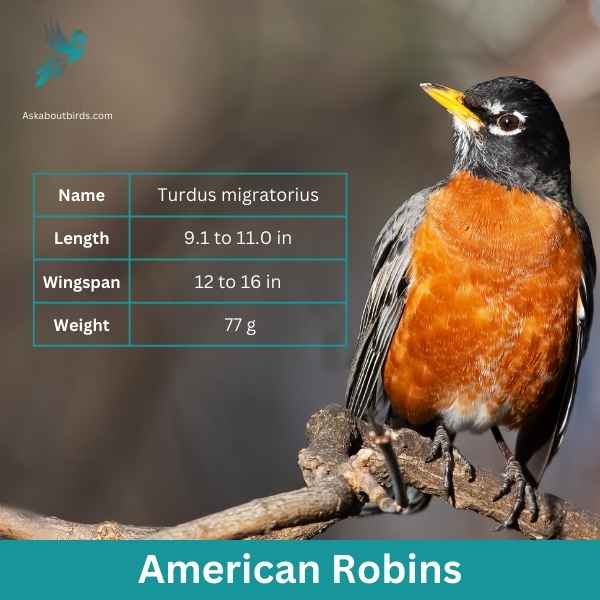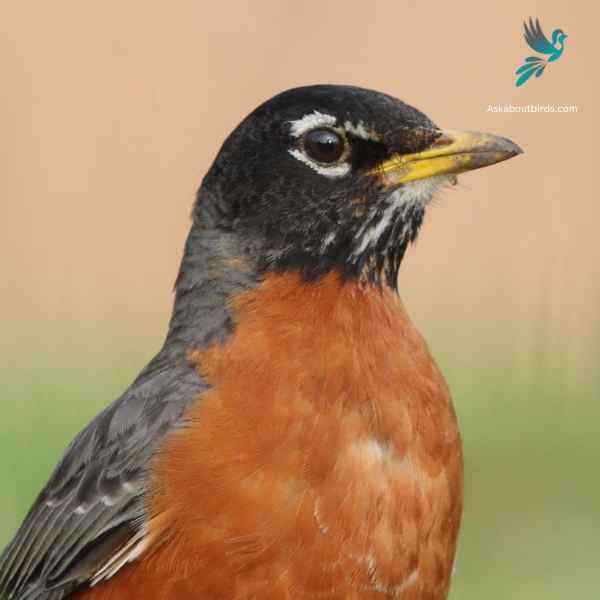 | Feature | Measurement |
| --- | --- |
| Scientific Name | Leptotila plumbeicep |
| Length | 10.6-11.8 in |
| Wingspan | — |
| Weight | 160-200 g |
The American Robin is a widely recognized bird species known for its melodious song and early bird tendencies.
Appearance: American Robins are medium-sized birds with a distinctive appearance. Both males and females sport a gray to brown back and a warm red to orange breast and belly and gray wings. They also have a characteristic white eye-ring and a black head, but males are usually darker than females.
Diet: American Robins have a diverse diet that changes depending on the season. In summer, they feed heavily on earthworms, beetles, and other invertebrates, which they catch on the ground. During winter, they mostly eat fruits and berries.
Reproduction: American Robins usually build their nests in trees or shrubs, but they are also known to nest on human-made structures. The female lays a clutch of about 3 to 5 eggs, which she incubates for about 12 to 14 days.
Where to Spot Maine's Orange Birds
Maine, with its mix of coastal cliffs, dense forests, and expansive wetlands, is a treasure trove for bird enthusiasts. The state's diverse habitats beckon a wide array of avian life, making certain locations a must-visit for those seeking the spectacle of orange-hued birds and more. Here are some of the top spots in Maine for witnessing its feathered wonders:
Acadia National Park: This national gem with its mixed forests is not only breathtakingly beautiful but is also a hotspot for birdwatching. The varied habitats attract everything from songbirds to raptors, making it a prime location to spot vibrant orange birds. Look for the black throated green warbler and blue jay scientific name Cyanocitta cristata.
Scarborough Marsh: As Maine's largest salt marsh, this area is a crucial habitat for many bird species. During migration seasons, it's especially lively, offering birdwatchers a chance to observe a diverse range of species in one location.
Down East Coastal Region: This stretch, spanning from Acadia to the Canadian border, provides a range of coastal habitats. Its mix of rocky shores and tidal estuaries attracts a broad spectrum of both seabirds and woodland species.
Sunkhaze Meadows National Wildlife Refuge: Nestled near Bangor, this refuge boasts peat bogs and wetlands. Its unique ecosystem draws a variety of bird species, making it a must-visit for dedicated birdwatchers.
Grafton Notch State Park: Located in the western part of the state, this park's mountainous terrain and mature forests are home to several bird
Maine has only one neighboring U.S. state, which is New Hampshire. New Hampshire's Orange birds can be found in :White Mountain National Forest: A preferred location with diverse bird species. Great Bay National Wildlife Refuge: Excellent for spotting various bird species. Pisgah State Park: With varied habitats from wetlands to forests.
FAQs on Orange Bird Species Found in Maine
Which orange-plumaged birds can be commonly spotted in Maine?
Bird enthusiasts in Maine should be on the lookout for the Northern Cardinal, especially in southern and central Maine. This bird sports bright orange plumage and is often seen visiting bird feeders, especially those stocked with sunflower seeds. While these birds are year-round residents, they are more abundant in southern Maine.
What do birds with orange feathers typically eat in Maine?
Birds with orange feathers, such as the Northern Cardinal and Orange-crowned Warbler, primarily eat seeds, fruit, and insects. They frequently visit bird feeders stocked with sunflower seeds, and during certain seasons, they might be attracted to offerings like orange slices and grape jelly. Ground feeders in Maine can also observe these birds foraging among the leaf litter for insects and seeds.
Are there any specific places in Maine where bird watchers can spot birds with bright orange plumage?
Yes, the forest edges, open woods, and deciduous trees of southern and central Maine are prime habitats for spotting birds with bright orange plumage. The Pine Tree State, particularly southern Maine, offers a range of habitats that attract such vibrant birds. Additionally, common backyard birds with tinges of orange and red are often attracted to bird feeders, especially during the winter months in Maine.
Do any orange birds migrate to Maine during specific seasons?
The Orange-crowned Warbler, with its subtle orange feathers, can be seen in Maine during its breeding range. This warbler, along with other birds like the Ruby-throated Hummingbird, migrates to the state, making it an exciting spot for bird watching during migration seasons. Bird feeders stocked with nectar or specific foods can attract these migrating birds, adding color and variety to Maine's avian population.