Welcome to the colorful world of Indiana's avian life. In this blog post, we're featuring 10 of the most striking orange birds that you can find fluttering across the Hoosier State. From energetic finches to melodious orioles, Indiana's skies and woodlands are graced with a captivating array of these vibrantly-colored species.
Whether you're a seasoned birdwatcher or just a nature lover, this guide will bring you closer to these feathery wonders and their fascinating lives. Let's embark on this ornithological journey!
Orange Birds Found In Indiana
Indiana's diverse geography, from the shores of Lake Michigan to the rolling hills of the south, creates an array of habitats attracting a splendid variety of birds, including some stunning orange species.
American Redstart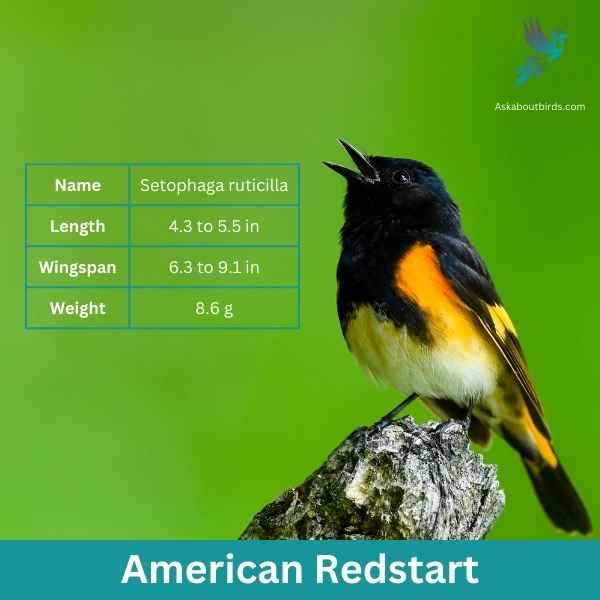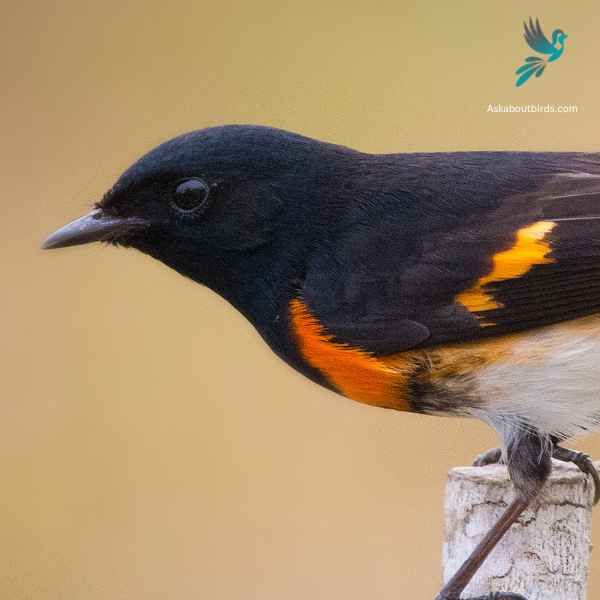 | Feature | Measurement |
| --- | --- |
| Scientific Name | Setophaga ruticilla |
| Length | 4.3 to 5.5 in |
| Wingspan | 6.3 to 9.1 in |
| Weight | 8.6 g |
The American Redstart is a lively warbler known for its vivid colors and active hunting style, often seen flitting about, fanning its tail to startle and catch insects.
Appearance: Adult male American Redstarts boast striking black plumage with bright orange patches on the sides, wings, and tail. Females and immature males have grayish-olive upperparts with yellow patches in the same areas where the males display orange.
Diet: American Redstarts are primarily insectivores. They actively forage for flying insects, as well as caterpillars and spiders, often using their colorful tails to startle prey and make them easier to catch.
Reproduction: The female American Redstart builds a cup-shaped nest in the fork of a tree branch. Typically, she lays a clutch of 3 to 5 eggs. The female takes on the primary responsibility of incubating the eggs, while both parents participate in feeding the fledglings after they hatch.
Baltimore Oriole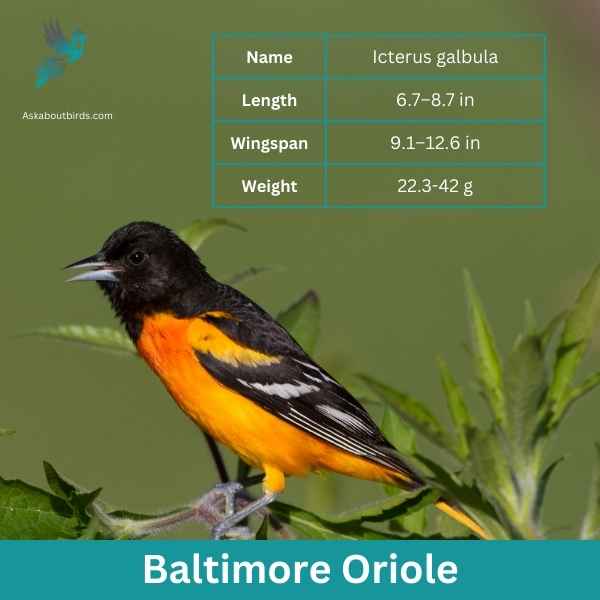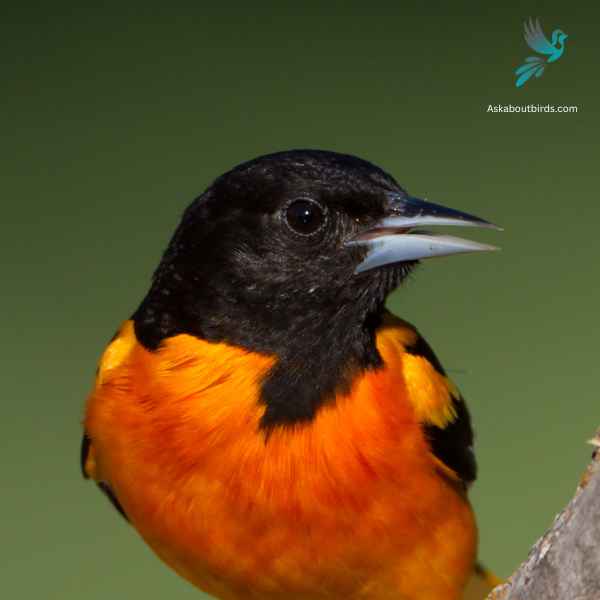 | Feature | Measurement |
| --- | --- |
| Scientific Name | Icterus galbula |
| Length | 6.7–8.7 in |
| Wingspan | 9.1–12.6 in |
| Weight | 22.3-42 g |
The Baltimore Oriole is a stunning bird, best known for its vibrant coloration and its rich, whistling song.
Appearance: The male Baltimore Oriole is notable for his bright orange and black plumage and black and white wing bars, a stark contrast to the more muted yellow-brown coloration of the female. Both sexes, however, have long pointed bills and white bars on their wings.
Diet: Baltimore Orioles have a diverse diet that includes insects, fruits, and nectar. Their preference for sweet juices and fruit pulp often brings them to backyard feeders offering oranges and jelly.
Reproduction: The female Baltimore Oriole is responsible for building the distinctive hanging nest, often woven together from fine materials like hair and grass. These nests are usually high in trees to avoid predators. The female lays 3-7 eggs, which are incubated for about two weeks.
Blackburnian Warbler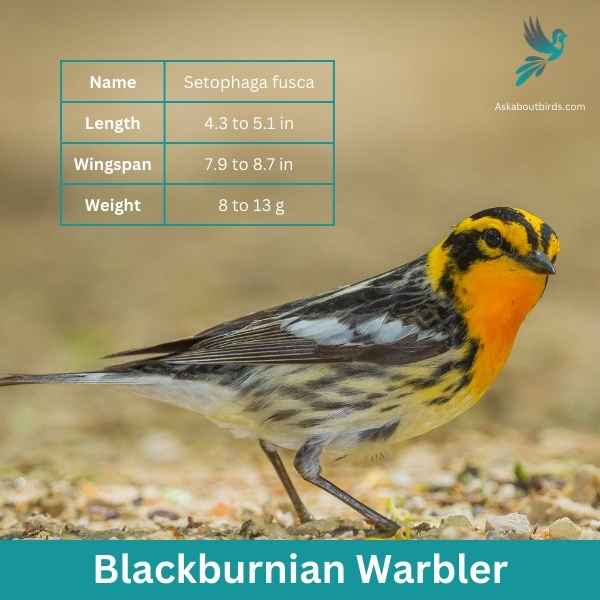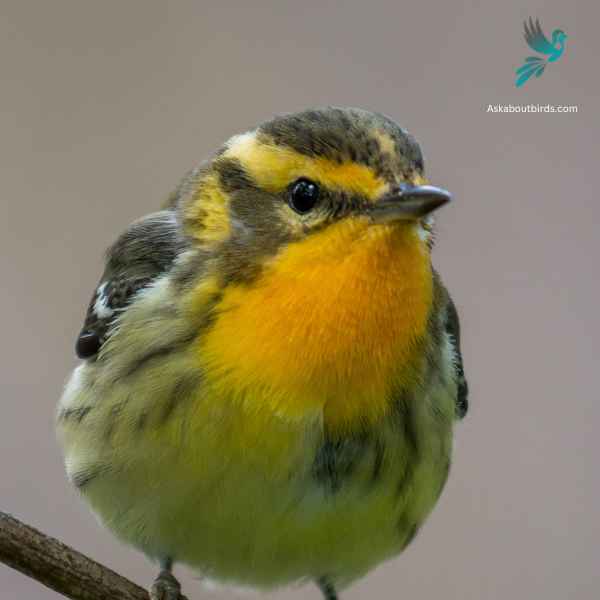 | Feature | Measurement |
| --- | --- |
| Scientific Name | Setophaga fusca |
| Length | 4.3 to 5.1 in |
| Wingspan | 7.9 to 8.7 in |
| Weight | 8 to 13 g |
The Blackburnian Warbler is a strikingly colored songbird that captivates observers with its vivid plumage, especially during the breeding season. Often found flitting high in the treetops of North American forests, its melodious song is as enchanting as its appearance.
Appearance: Male Blackburnian Warblers are distinguished by their fiery-orange throats, contrasting sharply with a black face, crown, and streaked back. They also have white underparts with black streaks on the sides. Females have a more muted coloration, with a yellowish or pale orange throat and less pronounced streaking.
Diet: Blackburnian Warblers primarily feed on insects and spiders. They are adept at foraging in the canopy, where they glean insects from the surface of leaves and branches or catch them mid-air in quick, agile flights.
Reproduction: Blackburnian Warblers build their nests high up in coniferous trees, often on horizontal branches. The nest is a neat cup made of twigs, grass, and moss, lined with softer materials like hair or feathers. The female lays a clutch of 4 to 5 eggs and takes the lead in incubation.
Eastern Towhee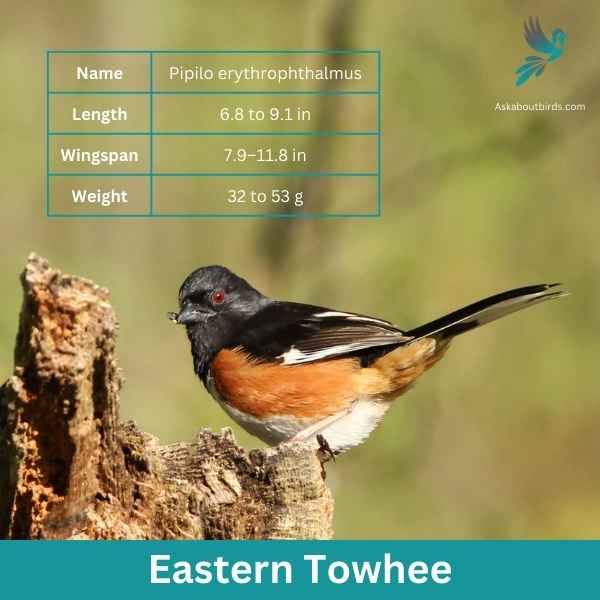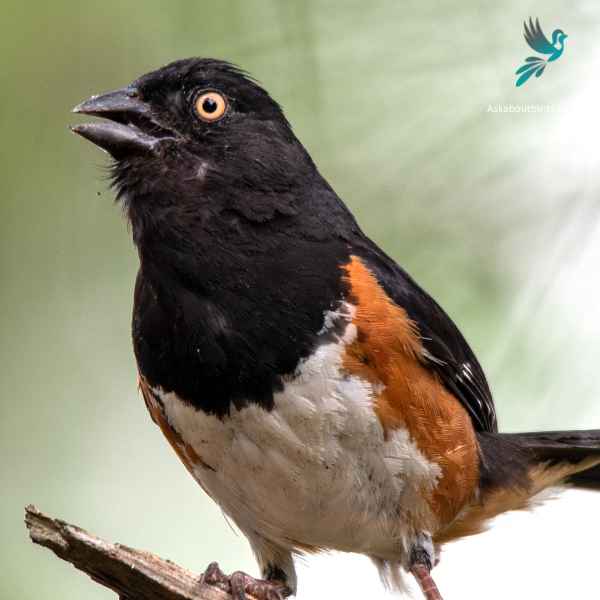 | Feature | Measurement |
| --- | --- |
| Scientific Name | Pipilo erythrophthalmus |
| Length | 6.8 to 9.1 in |
| Wingspan | 7.9–11.8 in |
| Weight | 32 to 53 g |
The Eastern Towhee is a distinctive songbird known for its unique calls and eye-catching coloration.
Appearance: Male Eastern Towhees are characterized by a striking combination of a black head, back and tail, contrasting with a white belly and rufous flanks. Females sport similar patterns but instead of black, they have a rich brown color. Both genders have red eyes, lending a special charm to their overall appearance.
Diet: Eastern Towhees primarily feed on a variety of insects, seeds, and berries. Their diet is quite diverse, taking advantage of seasonal offerings, which includes beetles, caterpillars, spiders, acorns, grass seeds, and various fruits and berries.
Reproduction: Eastern Towhees build their nests on or near the ground, often in a shrub or a small tree. The female lays around 3-5 eggs and takes the primary role in incubating them over about 12-13 days.
/
Northern Flicker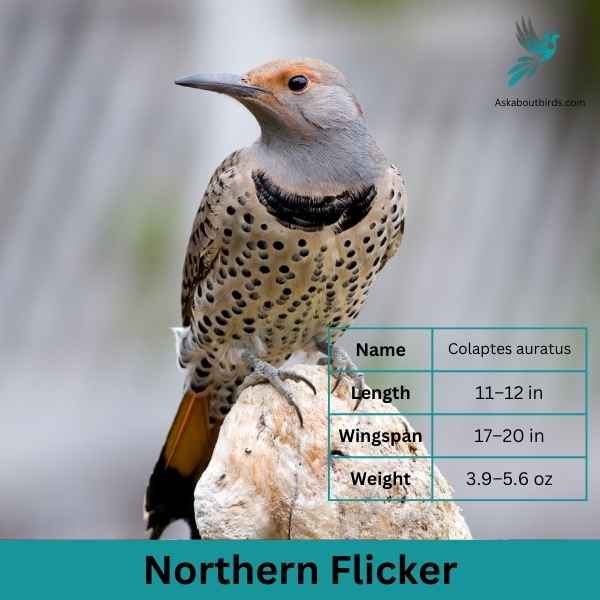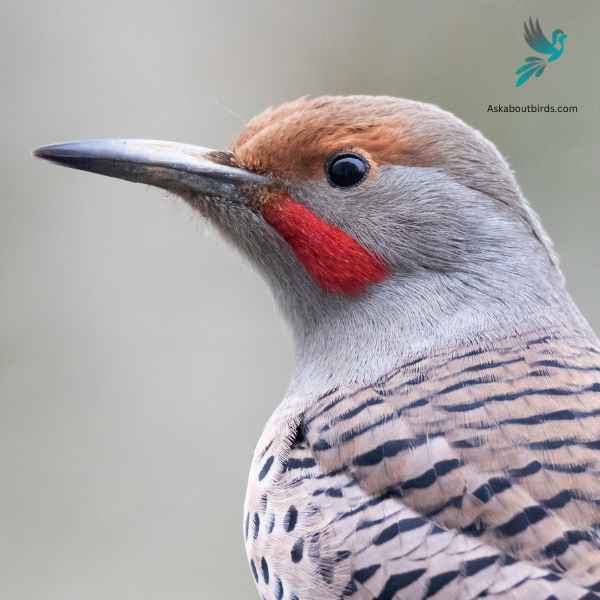 | Feature | Measurement |
| --- | --- |
| Scientific Name | Colaptes auratus |
| Length | 11–12 in |
| Wingspan | 17–20 in |
| Weight | 3.9–5.6 oz |
The Northern Flicker is a medium-sized woodpecker, recognized by its unique patterns and coloring, often found drumming on trees or foraging on the ground across North America.
Appearance: The Northern Flicker stands out with its grayish brown body, black-scalloped plumage, and a black bib. Males sport a distinctive black or red mustache stripe. Depending on the subspecies, the underwing and undertail feathers can be bright yellow or red, flashing vividly during flight.
Diet: While most woodpeckers are tree-bark foragers, the Northern Flicker prefers hunting on the ground. Its primary diet consists of ants and beetles, supplemented occasionally by fruits, berries, seeds, and other small insects.
Reproduction: Northern Flickers are cavity nesters, preferring to excavate their nesting hole in dead or diseased tree trunks. The interior of the nest is lined with wood chips.
Northern Cardinal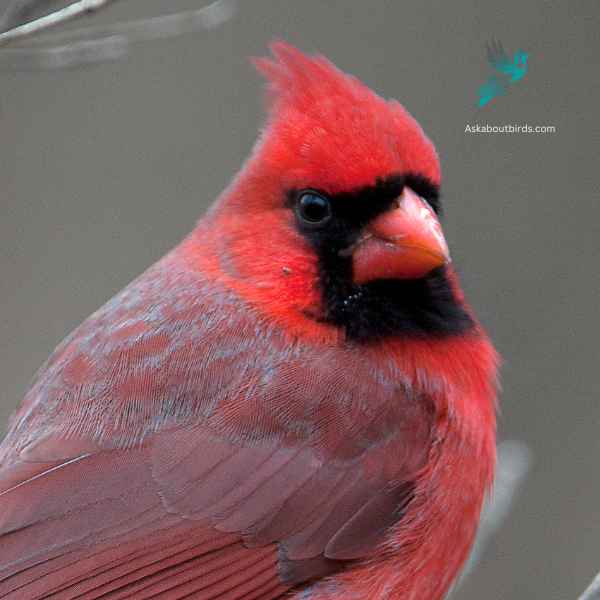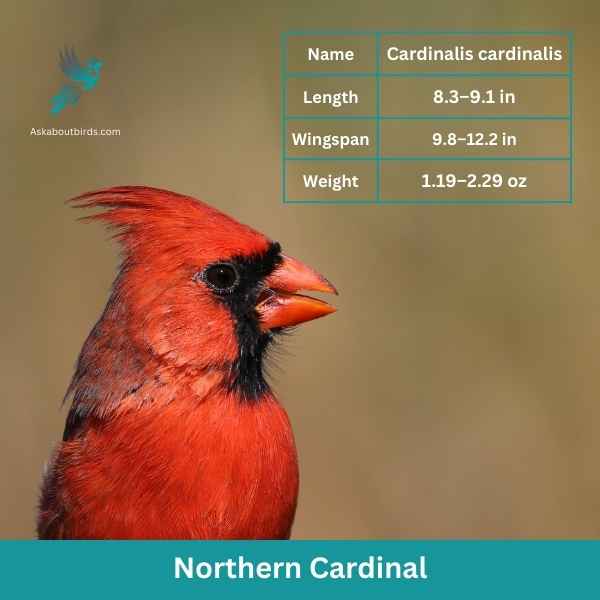 | Feature | Measurement |
| --- | --- |
| Scientific Name | Cardinalis cardinalis |
| Length | 8.3 – 9.1 in |
| Wingspan | 9.8 – 12.2 in |
| Weight | 1.19 – 2.29 oz |
The Northern Cardinal is an iconic North American bird, easily recognized by its vibrant color and melodious song.
Appearance: Male Northern Cardinals are a brilliant scarlet red, while females display a more subdued reddish olive. Both sexes have a distinctive black 'mask' on their face around the bill and a pointed crest on their head. The bird's beak is robust, cone-shaped, and bright orange in color.
Diet: Northern Cardinals are primarily granivorous, with a diet largely consisting of seeds and grains. They also eat fruits and insects. These birds typically feed off the ground and are frequent visitors to bird feeders.
Reproduction: Northern Cardinals are monogamous, and a pair will breed together for life. The female typically builds a well-hidden nest in a dense thicket or shrub. She lays 2-5 eggs per clutch, which she incubates for around two weeks.
Red-bellied Woodpecker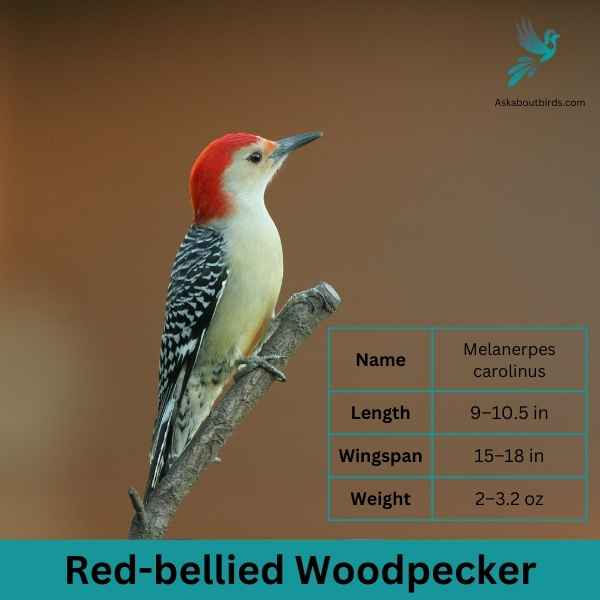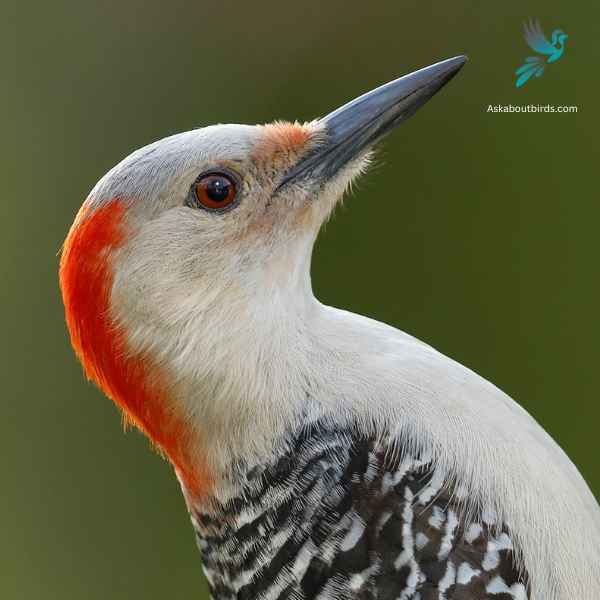 | Feature | Measurement |
| --- | --- |
| Scientific Name | Thryothorus ludovicianus |
| Length | 4.7–5.5 in |
| Wingspan | 11 in |
| Weight | 0.63–0.81 oz |
The Red-bellied Woodpecker is a medium-sized woodpecker commonly found in woodlands, forests, and backyards across the eastern and central U.S.
Appearance: The Red-bellied Woodpecker sports a pale gray face, throat, and belly, contrasted by a zebra-striped back. Its name derives from the subtle reddish tinge on its belly, but it's more commonly recognized by the vivid red cap on the head of males and the partial red cap on females.
Diet: This woodpecker has a varied diet that includes insects, fruits, nuts, and seeds. They frequently forage on tree trunks and branches, using their sticky, barbed-tipped tongue to extract ants, beetles, and other insects from crevices.
Reproduction: Red-bellied Woodpeckers are cavity nesters, excavating holes in tree trunks for their nests. The inside of the nest is typically unlined or sparingly lined with wood chips.
Scarlet Tanager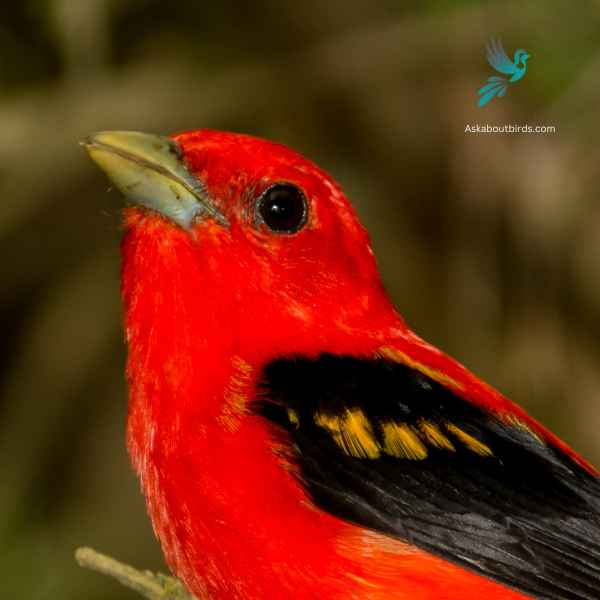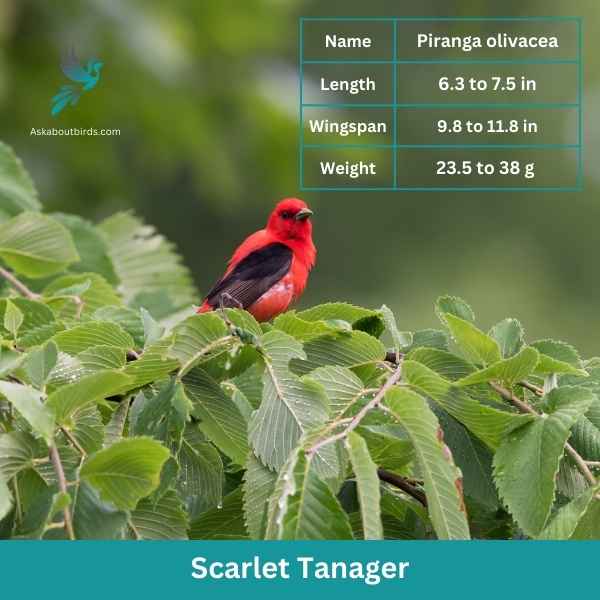 | Feature | Measurement |
| --- | --- |
| Scientific Name | Piranga olivacea |
| Length | 6.3 to 7.5 in |
| Wingspan | 9.8 to 11.8 in |
| Weight | 23.5 to 38 g |
The Scarlet Tanager is a strikingly colorful bird known for its brilliant plumage and distinctive song.
Appearance: Male Scarlet Tanagers are notable for their vibrant scarlet bodies contrasted with black wings and tail, making them one of the most intensely colored birds. Females and juveniles, on the other hand, have a subdued olive-yellow body color with darker wings and tail.
Diet: The diet of the Scarlet Tanager is largely made up of insects, including beetles, cicadas, aphids, and others. They are adept flycatchers, seizing insects in mid-air or picking them off foliage. They also consume fruits and berries, especially during migration and in their winter habitats.
Reproduction: The female Scarlet Tanager builds a cup-shaped nest using twigs, rootlets, and grass, typically well-hidden in the dense foliage of trees. She lays 3 to 5 eggs and incubates them for about two weeks.
Vermilion Flycatcher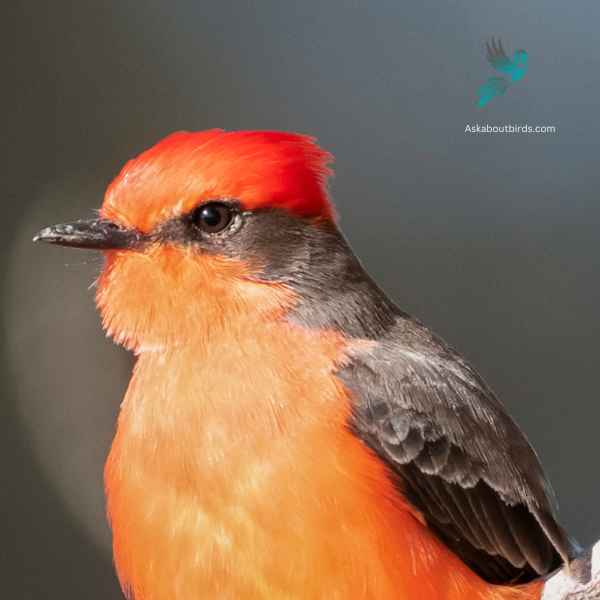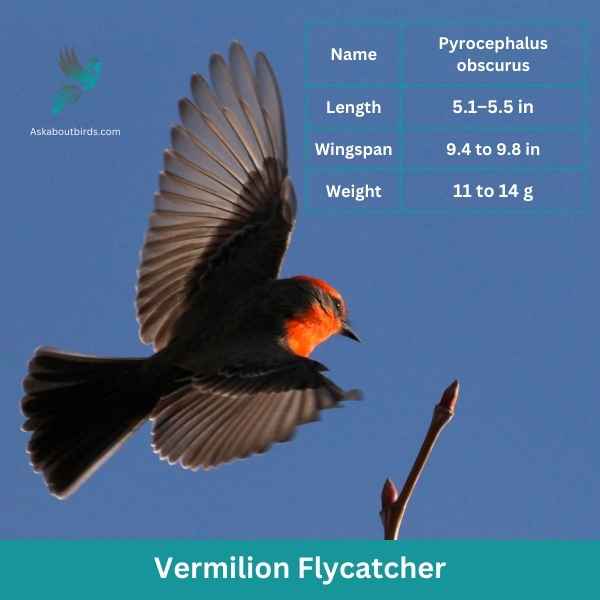 | Feature | Measurement |
| --- | --- |
| Scientific Name | Pyrocephalus obscurus |
| Length | 5.1–5.5 in |
| Wingspan | 9.4 to 9.8 in |
| Weight | 11 to 14 g |
The Vermilion Flycatcher is a small and colorful bird native to the Americas. The male Vermilion Flycatcher is a striking sight, displaying a vibrant red plumage on its head, breast, and underparts, contrasting with its brown wings and black tail below. Females, on the other hand, have more muted colors, featuring a pale yellowish belly and grayish-brown upperparts.
Vermilion Flycatchers are known for their lively and acrobatic flight displays, which they perform during courtship or to defend their territories. They often sing a series of soft, whistled notes while engaged in these aerial displays. They construct cup-shaped nests, usually in shrubs or low trees, where females lay their eggs and raise their young.
Western Tanager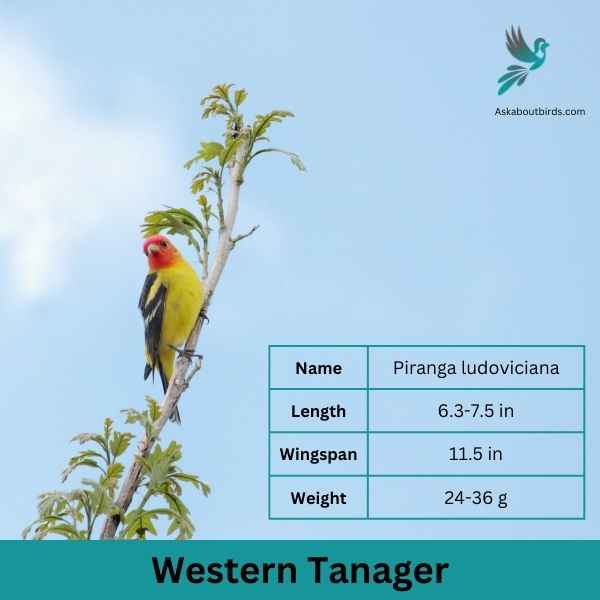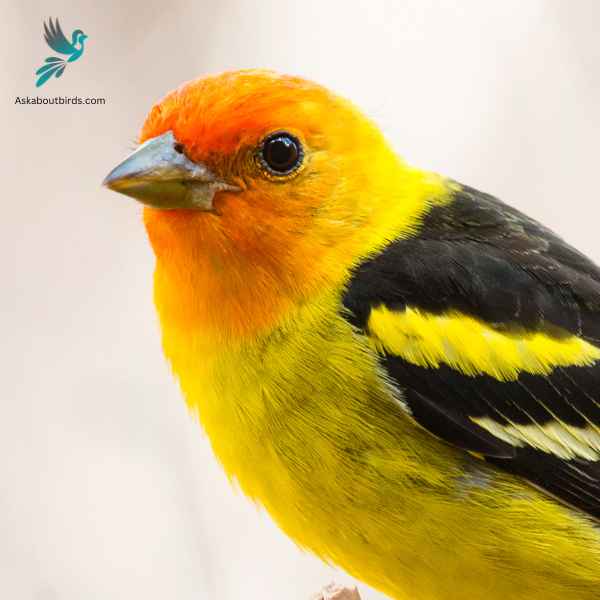 | Feature | Measurement |
| --- | --- |
| Scientific Name | Piranga ludoviciana |
| Length | 6.3-7.5 in |
| Wingspan | 11.5 in |
| Weight | 24-36 g |
The Western Tanager is a vibrant songbird that graces the forests and woodlands of the western regions of North America, enchanting observers with its colorful plumage and melodious song.
Appearance: The male Western Tanager is renowned for its bright yellow body contrasted with a striking red head and black wings and tail. The females are more subdued in hue, primarily being yellow with grayish wings and back, and lacking the brilliant red head of the males.
Diet: Western Tanagers primarily feed on insects, especially when breeding, but they also incorporate a significant amount of fruits and berries into their diet, especially during migration and winter.
Reproduction: Western Tanagers build their nests high in coniferous trees, often well concealed from potential predators. The female usually lays a clutch of 3 to 5 eggs and takes the primary role in incubation, while both parents are involved in feeding the chicks after they hatch.
Where to Spot Indiana's Orange Birds
In my adventures across Indiana's varying terrains, I have discovered several prime birdwatching spots teeming with vibrant orange avian species. Here are the top 5 locations where you can spot a remarkable diversity of birds:
Indiana Dunes State Park: Spanning over 2,000 acres along the southern tip of Lake Michigan, this park hosts over 350 species of birds throughout the year, making it a paradise for birdwatchers.
Goose Pond Fish and Wildlife Area: This restored wetland in southwestern Indiana is home to numerous bird species, including a rich array of orange birds, particularly during migratory periods.
Eagle Creek Park: Located in Indianapolis, it is one of the largest city parks in the U.S. and offers excellent birding opportunities, with over 260 species recorded.
Brown County State Park: Nestled in the rolling hills of Southern Indiana, this park's forests and water bodies attract a wide variety of birds.
Fort Harrison State Park: A green oasis in the heart of Indianapolis, this park features diverse habitats that support a rich bird life throughout the year.
| Neighboring State's Orange Birds | Top Spots for Birdwatching |
| --- | --- |
| Michigan's Orange Birds | Isle Royale National Park, Shiawassee National Wildlife Refuge, Waterloo State Recreation Area |
| Ohio's Orange Birds | Magee Marsh Wildlife Area, Cuyahoga Valley National Park, Ottawa National Wildlife Refuge |
| Kentucky's Orange Birds | Mammoth Cave National Park, Daniel Boone National Forest, Land Between the Lakes National Recreation Area |
| Illinois's Orange Birds | Montrose Point Bird Sanctuary, Starved Rock State Park, Crab Orchard National Wildlife Refuge |
FAQs on Orange Bird Species Found in Indiana
Which birds with bright Orange Plumage can be found in Indiana?
Indiana hosts several birds with bright orange plumage. The male American Robin is distinguished by its orange breast and is a widespread bird in the eastern United States. Orchard Orioles are another species with a notable orange hue, with males showcasing a combination of a black hood and bright orange underparts. Additionally, male Scarlet Tanagers, known for their striking contrast of bright red bodies and black wings, can be observed in the deciduous trees of Indiana.
How can I attract orange birds to my backyard in Indiana?
To attract these vibrant birds, setting up a bird feeder filled with sunflower seeds can entice species like American Robins and House Finches. Orchard Orioles can be drawn with orange slices, grape jelly, and black oil sunflower seeds. Hummingbird feeders filled with sugar water might also attract some birds with hints of red or orange in their plumage. Providing a habitat with deciduous trees and open woods further supports these species and offers nesting and roosting sites.
What are some distinguishing features of common birds found in Indiana?
In Indiana, especially along the forest edges and in mixed forests, one can often spot birds with distinctive markings. A prominent feature among these birds is the presence of bright orange patches, especially evident in certain species during specific seasons. Another easily recognizable marking is white wing bars, a characteristic trait of the Red-breasted Nuthatch. This particular bird, with its dark gray wings, stands out amidst the greenery. While many of these birds reside in Indiana throughout the year, some migrate to warmer regions like South America during colder months, adding to the diverse avian tapestry of the state.